Comforth IPL Pro - Permanent Hair Remover
Sale price

$324.00
Regular price

$324.00
(/)
Free 1-3 day delivery with UPS
Best reviewed IPL Hair Remover in Europe
At-Home Permanent Hair Removal
Get rid of unwanted hair growth and achieve soft, smooth skin with Comforth IPL Pro - the newest and most effective technology for permanently removing hair at home.
The machine provides a gentle, harmless, and effective treatment that works on any part of the body - including the face and the intimate area. Comforth IPL Pro is clinically certified for safe and effective home treatment providing clear and long-lasting results in 5-12 weeks.
✓ 2-3 times stronger than other IPLs
✓ Get rid of red bumps and ingrown hairs
✓ Fast and long-lasting results
✓ Save time and money on clinic visits
✓ Simple, efficient and secure
Results are guaranteed! With our 100-day satisfaction guarantee you can be completely confident in your purchase. If you don't experience the desired results, simply contact us and get all your money back.
Introduced in May 2023, the IPL Pro represents a remarkable advancement over its predecessor, the highly acclaimed Comforth IPL. Earning top accolades from numerous individual reviewers, the Comforth IPL Pro has swiftly garnered a collection of prestigious awards and secured its position as a leading choice in the market, despite its relatively brief time in existence.


"

If you also want to avoid unwanted hair growth and instead achieve smooth skin without having to shave often, Comforth IPL Pro is the right choice for you."
IceCool technology 
Lifetime: 999,999 light pulses
Strength: 4-12 J
Size of flash lens: 3cm2
Strength Levels: 5

Modes: 3

Wavelengths: 650-1200nm
Optical sapphire crystal

Storage temperature: 5-35

 

°C

Weight: 260g
Adapter: AC12V3A

Outer material: ABS plastic
Comforth IPL Pro - Permanent Hair Remover
Sale price

$324.00
Regular price

$324.00
Choose options
✔️ No more shaving
As soon as you get the Comforth IPL Pro, feel free to throw away your razors once and for all! We want you to let go of the many inconveniences associated with shaving and save time in everyday life.
✔️ Gentle on the skin
Say goodbye to post-shaving irritation and ingrown hair on legs, arms and buttocks! Once your hair growth is completely stopped, your skin will be noticeably softer and silkier. Additionally, you will never have to deal with red bumps after shaving, ever again.
✔️ Budget friendly
Save money and remove unwanted hair at the comfort of your home with Comforth IPL Pro. The machine has 999,999 flashes and a lifespan of over 10 years, so you can avoid time consuming and costly treatments at clinics. You will achieve the desired results while saving money on overpriced razors.
✔️ Adjust to your needs
Comforth IPL Pro has 5 strength levels that can be adjusted for the face, intimate area and the rest of the body. The IceCool technology provides a comforting and cool treatment. Additionally, the machine can be set to auto flash mode while moved across the skin, to ensure the treatment is quick and easy.
The machine works on any part of the body, takes a 5-20 minutes to use and provides results after just a few treatments.
IT'S THAT EASY...
PERMANENTLY HAIR FREE IN 3 EASY STEPS:

1.
Shave
It is important to shave beforehand, otherwise the hairs absorb the laser's energy.

2.
Use on desired body parts
Just once a week - also on the face and in the intimate area.

3.
See hairless results in weeks
Enjoy your new smooth skin and get rid of red bumps and irritation from the scraper.
HOW DOES IPL HAIR REMOVAL WORK?
Since 1995, a harmless and effective method with no side effects called IPL (Intense Pulsed Light) has been used to permanently get rid of unwanted hair. The machine used produces strong light pulses which are transformed into heat in the hair follicles that gradually destroys them, reducing hair growth. IPL affects only the pigment molecule, melanin, in the hair follicles causing the treatment to work efficiently.
Body hair has three different growth phases, and IPL affects the hair follicles that are in their active growth phase. Only about 20% of your hair is in this phase at any given time, which is why it takes 5-8 weeks of treatment to see results.
The treatment usually takes 5-8 weeks to start working, and between 8-12 weeks to permanently remove hair from the hair follicles depending on genetics and hormones.
RESULTS WITH COMFORTH IPL PRO
With Comforth IPL Pro, you can look forward to a multitude of benefits and a much easier everyday life.
Become permanently hair-free on your entire body
Stop shaving permanently
No more ingrown hairs
No more red bumps after shaving
Avoid expensive treatments
Get softer and smoother skin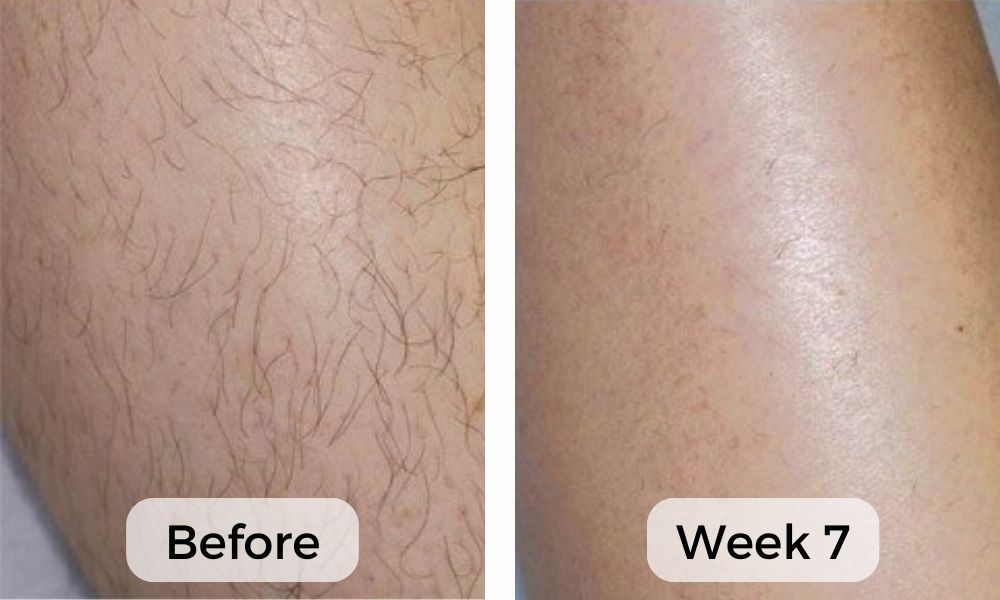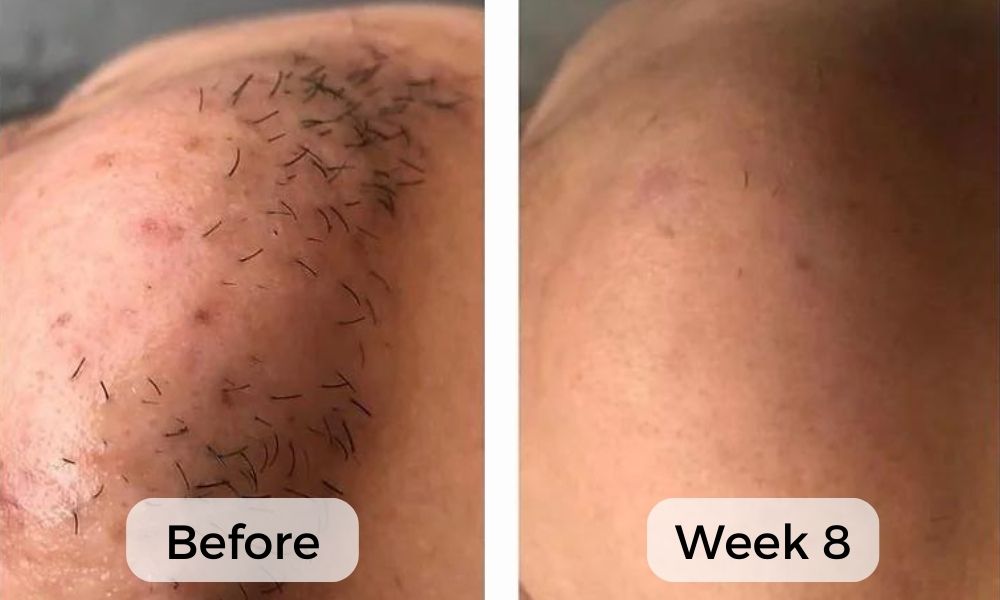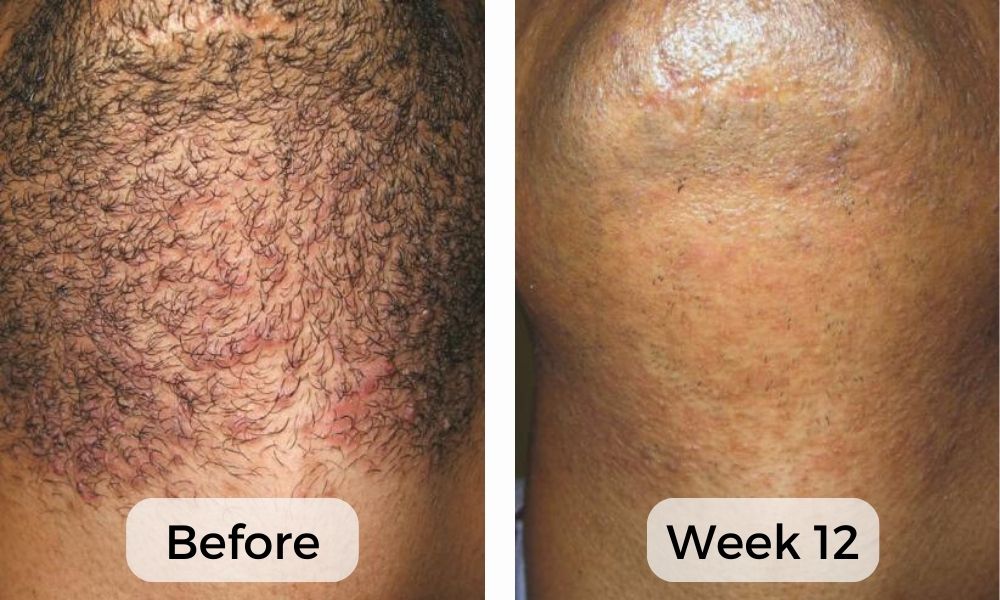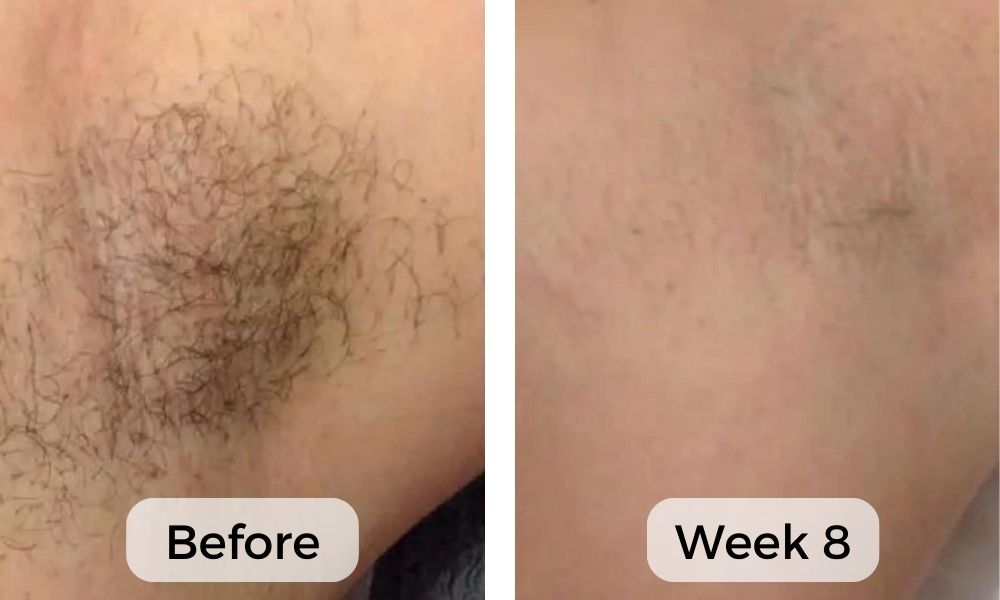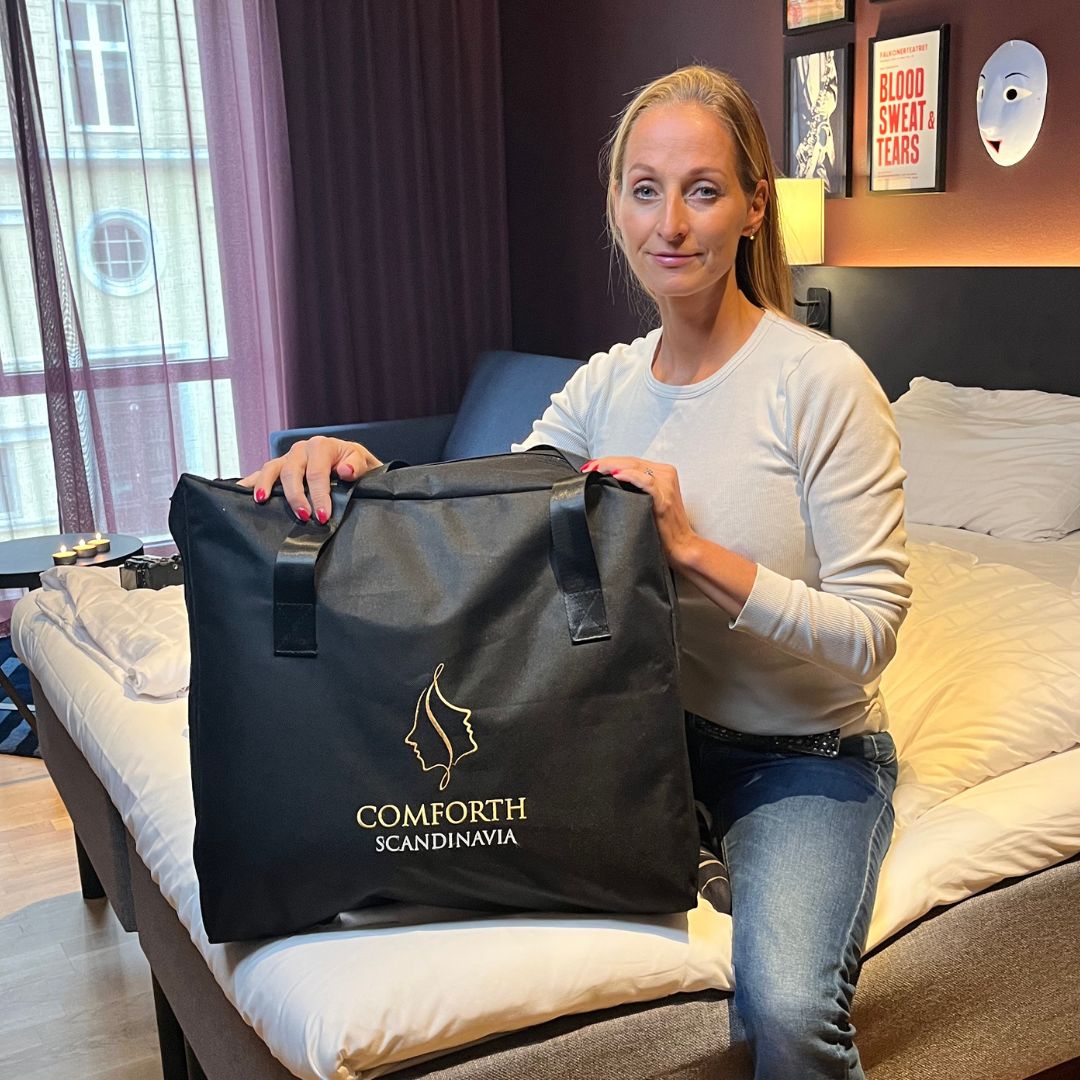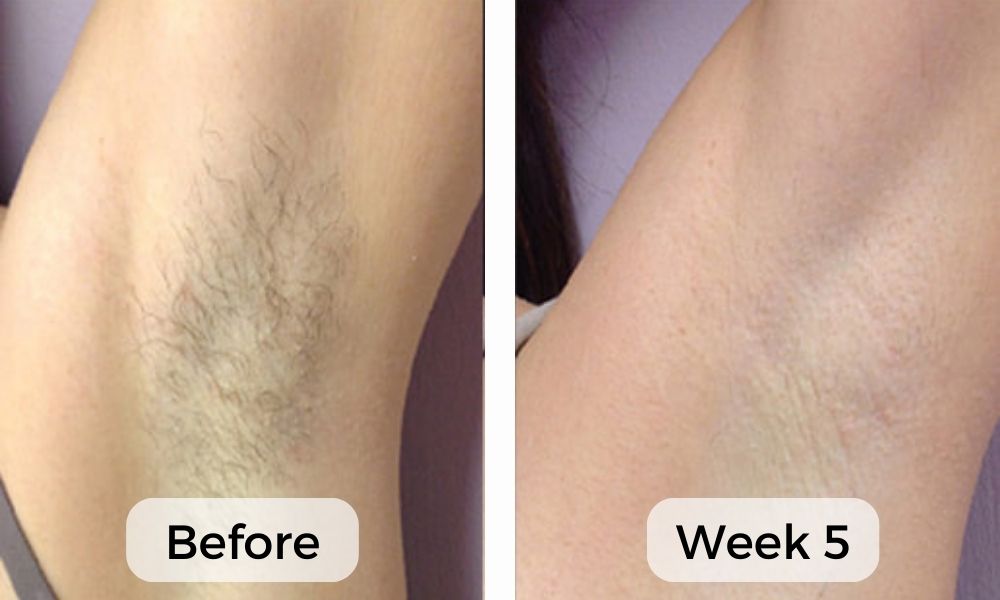 After 3-5 weeks you'll see the first signs of reduced hair growth. The hair growth will continue to decrease week by week. Optimal results are achieved with weekly treatments for 8-12 weeks.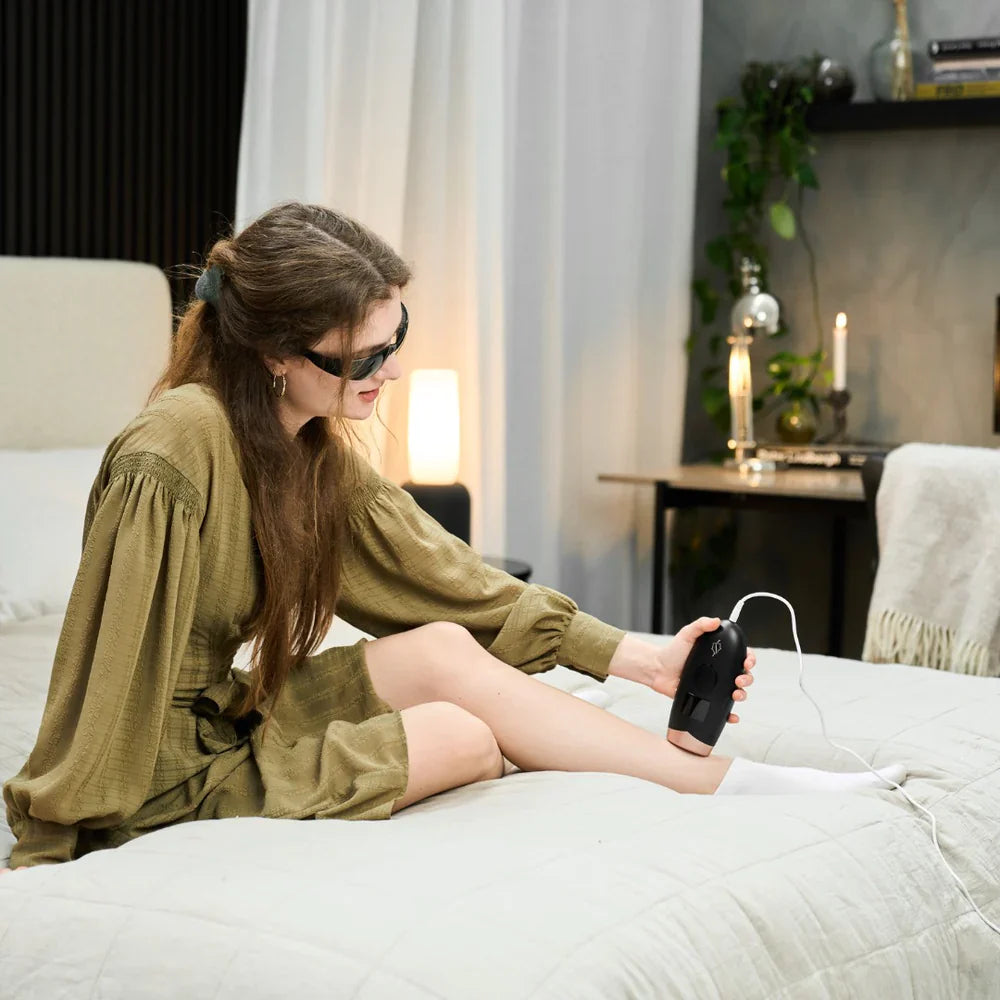 What makes comforth ipl pro different?
In addition to its ergonomic design, LED display and autoflash function, the Comforth IPL Pro has a number of features that make it superior to other IPL models.
Unlike many other devices and clinic treatments, Comforth IPL Pro is completely painless due to the smart IceCool technology, which keeps the epidermis cool.

High energy levels in IPL machines can damage the skin without cooling, but due to the IceCool technology, Comforth IPL Pro can deliver an energy output of up to 12J, without any risk of burning. This makes Comforth IPL Pro up to 3 times more effective than other IPL models.
Comforth IPL Pro has an optical sapphire crystal, with excellent light transmission abilities, which minimizes the loss of energy to almost nothing. This makes the treatment more effective, as 98-100% of the energy hits the hair follicles. Cheaper IPL models, that uses glass instead, transmit the light energy less effectively, which increases the risk of overheating in the machine and reduces efficiency.
Comforth IPL Pro can be adjusted to treat different areas of the body. The treatment must be gentler on the face than on the legs for example. That's why the Comforth IPL Pro has different modes for the body, face and intimate area. The different modes correct the light energy according to the desired treatment area to ensure the most optimal treatment.
WHAT CAN IT NOT DO?
IPL treatment requires a sufficient melanin difference between the hair follicles and the skin. People with dark skin cannot use IPL as the small difference in melanin level can lead to burns.
IPL works best on darker hair, as light or gray hair does not have sufficient melanin to absorb the heat in the hair follicles. Dark blonde hair can still be treated, but may require more treatments than usual. Red hair has a different type of melanin that does not absorb the IPL energy, which is why IPL does not work on red hair.
Does not work on dark/black skin
Does not work on completely blonde hair
Does not work on gray hair
The table shows whether IPL works on your skin and hair color and the recommended strength levels.
100% SAFETY
IPL technology has been around for over 25 years and has been proven safe and effective for permanent hair removal both at home and in clinics.
However, it is important to choose a reliable IPL from a reliable manufacturer. Comforth IPL is developed with the latest technology and is certified by FDA, CE, ROHS and ISO, making it a safe choice. The Comforth IPL has been developed and tested by dermatological experts in light pulse therapy and is approved for use worldwide.
100 DAYS 100% GUARANTEE
We are so confident in the effectiveness of our product that we offer a 100-day 100% satisfaction guarantee - if you don't experience results, you can return the product and get your money back within 100 days from the date of recieving the product.
In addition, Comforth IPL Pro is covered by a 2-year quality guarantee. If there is any fault in the machine within this period, it will be replaced free of charge.
WHAT DO I GET WITH THE PURCHASE?
1 Comforth IPL Pro
1 Power cable
1 Detailed user manual
1 Pair of protective glasses
1 Razor
5 power settings
Adjust to your skin
3 skin settings
For the face, body and intimate area
Cooling function
For a pleasant treatment
Auto or Manual
Flashes automatically on skin contact
Sapphire crystal
Excellent transmission ability
999.999 Flashes
+10 years without unwanted hair
IPL IN GENERAL
IPL stands for Intense Pulsed Light. It became available in beauty salons in 1997.

The technology allows gentle and effective treatment of unwanted hair growth by sending light pulses into the hair follicles, which are absorbed by the melanin and converted into heat, preventing further hair growth.
Laser hair removal uses monochromatic laser light, while IPL uses broad-spectrum pulsed light. IPL's multiple wavelengths make it gentle on the skin and reduce side effects without affecting effectiveness.
IPL uses selective photothermolysis and is absorbed only in the hair follicles. Dermatological experts have approved IPL as safe and long-lasting. Comforth Scandinavia ensures quality and safety of approved appliances.

Please read the accompanying manual and contact our customer service at support@comforth.com if you have questions.
No. During treatment, you may experience a slight tingling sensation, but due to the IceCool technology, the skin is kept cool, so the treatment is pleasant and painless.
Side effects are rare (<1%) and short-lived. They include redness, irritation, and mild tenderness that can be relieved with aloe vera and/or ice. Perform a spot test 24 hours before treatment. There is no long-term discomfort.

Be aware of the risk of burns with IPL on dark skin, mole or tattoos, as they absorb light energy as heat.
Please see our guide here.

The product also comes with a detailed user manual that contains all the information you need.
Yes! Here are some tips to get more out of your treatments:

Scheduling treatments:
To get the best results, repeat the treatment 1-2 times a week for 12 about weeks, depending on skin tone and hair colour. Consider using a calendar to keep track of treatment dates and avoid forgetting them or over-treating.

Find a good place and use a mirror:
Ensure space for free movement, proximity to a power outlet and a mirror to ensure correct positioning of the appliance. Take your time to perform the treatment.

Take pictures along the way:
Take pictures along the way to track progress, document results, identify underperforming areas and maintain consistency. In addition, it is also motivating to see weekly improvements.
Yes. Your eyes are safe as long as you are not looking directly at the laser, but for safety reasons you should still protect your eyes with the specially designed goggles provided.
Both the protective glasses and the razor are located under the hard plastic form in the box where the device is found.
Before we send out our IPL Hair Removers, we always test the machine's flash capability on a special glass plate (we do not test on skin). Therefore, when you receive the IPL Pro, the flash counter will often be between 999,950-999,980.
APPLICATION
Avoid treating very dark skin as it absorbs the energy as heat and may cause irritation or burns. IPL is best suited for light to brown/olive skin, where the melanin difference between skin tone and hair colour is great enough.
IPL is less effective on red, blonde, gray and white hair. This is due to the ratio of the melanin types eumelanin, which responds to IPL, and pheomelanin, which does not.

- Dark blonde hair can respond to IPL, but results take longer. Light blond hair is not suitable.
- Gray or white hair lacks melanin, which is why IPL does not work on these hair colours.
- If the hair is red, it depends on the ratio between eumelanin and pheomelanin.

See visual guides for blonde and red hair to assess whether the IPL is right for you here.
Avoid intense sunlight and sunbed at least 1 week before and 24 hours after treatment, but preferably 2 weeks before and 48 hours after.

If you use sunscreen with a factor of 30 or higher, there is no problem with being out in the sun.

Read our blog post on IPL and sun exposure here.
You can treat areas such as armpits and intimate areas in the summer as these areas are not as exposed to the sun, but follow the guidelines for sun exposure and use sunscreen.

Legs and arms can also be treated if you use sunscreen.

However, it is not recommended to treat the face in summer, as it is difficult to avoid the sun and the risk of forgetting to apply sunscreen is too high.

Therefore, wait with treating your face until autumn and winter.
Avoid self-tanning a week before treatment, as this activates the pigment in the epidermis, just like sunbathing.
The recommendation is to shave, as plucking, waxing and epilation remove the hair root, which is what absorbs the IPL energy.

After a completed treatment course with Comforth IPL Pro, the razor can be permanently thrown away!
Higher hair density requires more treatments (eg. armpits compared to legs).

Comforth IPL has settings for the body, face and intimate area, which ensures optimal treatment whereever you choose to use it.
Comforth IPL can be used on the whole body with settings for the face, intimate area and body. Wear safety glasses and avoid the eye area.

Do not use on testicles and labia, as the temperature can effect these areas.
Shaving before treatment ensures full energy absorption in the hair follicles. Unshaved hair can absorb energy, creating a risk of burns and reducing the effectiveness of the treatment.

Shave 24 hours before treatment to avoid skin irritation.
Although no studies show harmful effects of IPL during pregnancy or breastfeeding, it is recommended to avoid IPL during these periods to be completely safe.
Yes, but you must NOT use the machine directly on the tattoos.
During menstruation, the skin may be more sensitive, but this does not affect the effectiveness of the treatment. However, it is advisable to plan your treatments outside of your menstrual period to avoid discomfort.
Use the machine 1-2 times a week for 10-12 weeks. After this period, perform follow-up treatments approximately once a month to maintain results. Gradually reduce the treatment intensity to every 2-3 month over time.
RESULTS
Yes, IPL works for both sexes.

However, men may require more follow-up treatments than women due to increased testosterone, which affects hair growth and the hair cycle.
Permanent hair removal means that the damaged hair follicles are gone forever. But the body can form new hair follicles over time, which means that no treatment can ensure complete permanent hairlessness without follow-up treatments, including laser treatments and clinic treatments.

New hair follicles form slowly and are influenced by genetics, hormones and age. After a completed course of treatment, follow-up treatments are only necessary approximately every 1-3 months.
There is no specific time frame for permanent hair removal as we are all different and our bodies react differently to the treatment. The effectiveness depends on the skin and hair tone as well as the hair growth in the specific area.

Hair growth is affected by genetics, hormones and factors such as pregnancy, menstruation, PCOS and use of birth control pills. In general, it takes about 8-12 weeks to become completely hair-free, but results vary from person to person. It is important to continue the treatments to see progress week by week.
After 3-5 weeks, the hairs will grow back more slowly and more sparingly. A single treatment is not enough, so follow a treatment plan with regular treatments.

After 12 weeks, you will see fewer hairs, and only need maintenance once a month and over time every 2-3 months. Complete a full 12-week course for best results and remember to treat every week.
When more than 8 weeks have passed after your first IPL treatment and you notice that hair is not growing back, you can assume that the treatment has been successful. Before this, the removed hairs will grow back, but thinner and softer over time.

After several treatments, no new hair will grow back, and only monthly maintance is required.
After the course of treatment, follow-up treatments are still required. Although the hairs that are removed are gone permanently, new hairs will grow in the body over time, especially during hormonal changes.

Therefore, start with monthly treatments for 3 months, and reduce to every 2-3 months as needed hereafter.
After achieving your dream result, monthly follow-up treatments are recommended, with a gradual tapering off to every 2-3 months. month as needed.

Hormones and genetics affect hair growth, and in ones twenties, more treatments may be necessary due to hormonal changes.

Age and more stable hormones can increase the durability of permanent hair removal. In addition, hormonal factors such as pregnancy, menstruation, PCOS and birth control pills can also affect the need for follow-up treatments.
Comforth IPL Pro is a powerful machine, but some customers may experience not achieving the desired results.

One should expect 75-95% hair growth reduction depending on genetics and hair growth. Even in the professional industry of permanent hair removal in clinics, it is estimated that approximately 2-5% of patients do not respond satisfactorily to the treatment, regardless of which machine is used. The exact reason for this is still unknown.

That's why we offer a 100-day satisfaction guarantee, which is an offer that professional clinics can't match.

It is our noblest task to help you achieve your dream result. Therefore, do not hesitate to contact us at support@comforth.com, if you have any questions whatsoever.
People who do not experience IPL results are typically younger and have more hormonal fluctuations.

Hair growth slows and hormones become more stable in ones thirties and forties, meaning the effectiveness of IPL increases with age.
Delivery
We offer delivery with UPS. You can always follow your package on UPS' tracking page. You will receive the tracking number by email as soon as your order has been dispatched.
We ship from our warehouse in Denmark.
If you buy before 2 pm. CET. on a weekday, your order will be dispatched the same day. Otherwise, we will ship the next business day. The actual delivery typically takes between 1-3 days but varies from country to country. Find your shipping time here.
Yes. As soon as your order is shipped, you will receive a tracking number so you can easily follow the delivery process. Should you not receive the package as expected, you will of course receive full compensation or a new shipment.
Yes. Because of our 100-day satisfaction guarantee, you have the option of returning your purchase within 100 days of receiving the item. Please note that you must pay the return label yourself. Read more about our satisfaction guarantee here.
UPS will deliver to your home address. If no one is home at delivery, UPS will deliver to the closest UPS pick-up point.
Other
You can easily contact us at support@comforth.com.