Comforth Infrared Luxury Sauna Blanket
Sale price

$540.00
Regular price

$540.00
(/)
Free 1-3 day delivery with UPS
Best reviewed Sauna Blanket in Europe
The ultimate wellness product
Better muscle recovery, instant pain relief, reduction in anxiety and stress, weight loss, detox and improved sleep quality are just few of the many benefits you get from using the Infrared Sauna Blanket.
30-60 minutes of deep relaxation in the Sauna blanket is enough to increase the metabolism, strengthen the immune system and induce serotonin release. You will experience an intense warming of the body, which cleanses it of toxins and gives the skin a nice and healthy, long-lasting glow.
✓ Improves blood circulation and recovery ability
✓ Reduces the stress hormone, cortisol
✓ Supports quality sleep
✓ Increases collagen production on the skin
✓ Detoxes the body of waste and toxins
✓ Boosts metabolism
The blanket uses only 600W, which means it costs less than €0,5 per hour to use the sauna blanket.

The blanket comes in a nice and sturdy

 

fabric bag and can be easily folded and stored or transported in the bag.
Weight: 10 kg
Tested for people up to 140kg
Usage time: up to 1 hour
We offer quick and seamless delivery with UPS. The expected delivery time is 1-3 working days. Orders placed within 14:00 are sent the same weekday.

By virtue of our 100% satisfaction guarantee you have a 100-day right of cancellation. If you inform us that you want a return, you have a further 14 days to send the product. You can buy a return label from us which costs EUR 6,5. The money will be deducted from the final amount repaid when the package arrives at our facility.
Comforth Scandinavia is a Danish, family-owned company established in 2020. Our products are of the highest quality and our service is top notch, which is reflected in our good reviews. Products from Comforth is for anyone who want to look and feel like the best version of yourself.

If you have any questions, please feel free to contact us at support@comforth.com.
Comforth Infrared Luxury Sauna Blanket
Sale price

$540.00
Regular price

$540.00
Choose options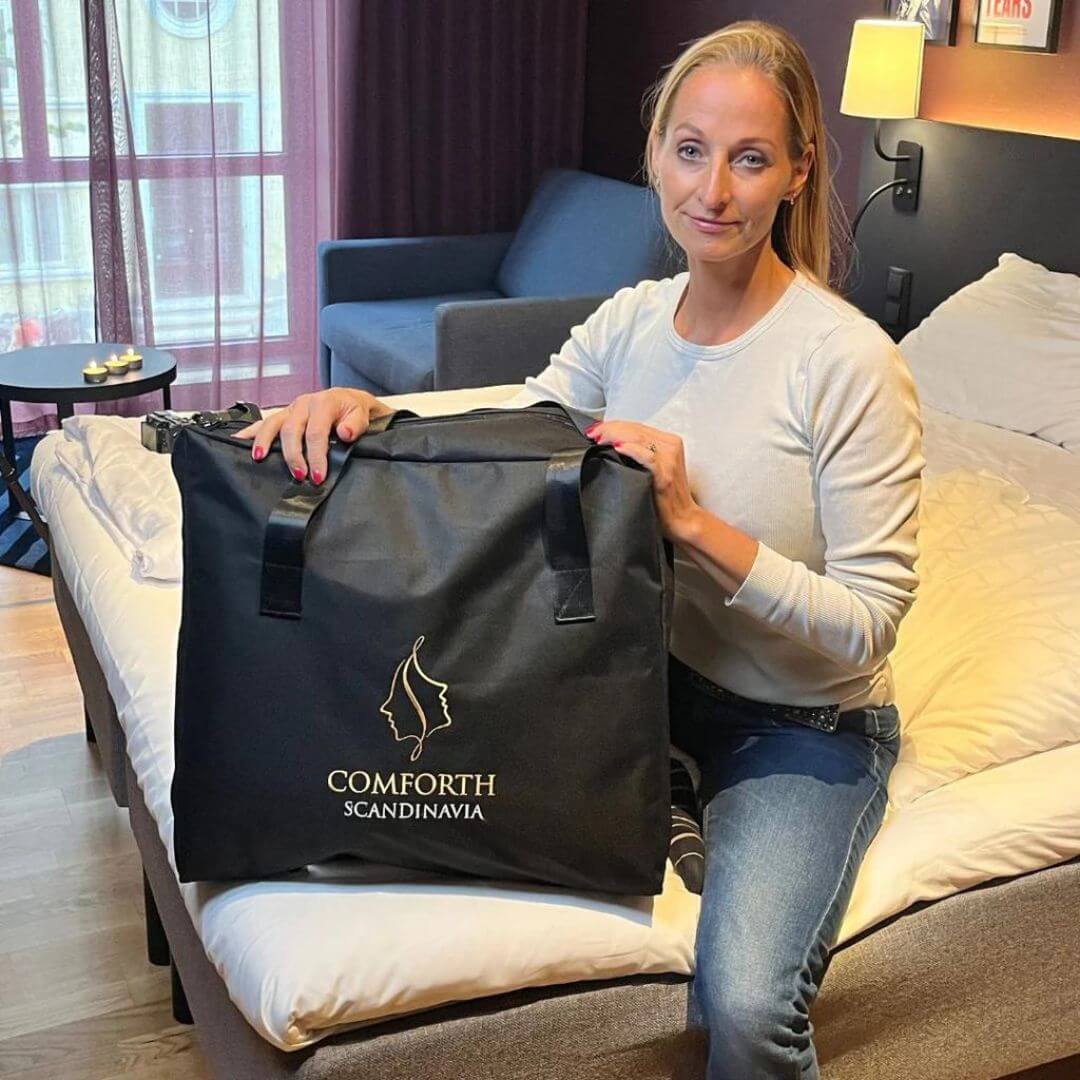 ✔️ improved sleep and well-being
The treatment stimulates the metabolism and the parasympathetic nervous system, so that you get into a deep relaxation state that can be felt in the body and mind for hours. After only 30 minutes of use, it causes the brain to release dopamine and serotonin, so you become relaxed and improves your sleep quality at night.
✔️ Increased metabolism
With the Comforth Infared Sauna Blanket, the body works harder to maintain its normal temperature, which is why you boost the metabolism during a treatment of 40-60 minutes. In addition, the treatment helps maintain normal cortisol and insulin levels, which can increase fat burning if you have an imbalance in your hormones due to stress or lack of sleep.
✔️ Removes muscle and joint pain
The Infrared Sauna Blanket increases blood circulation, relaxes the muscles and helps reduce pain and tension from the body through a completely natural process and without medication.
✔️ Natural detox
The sauna blanket makes you sweat, which starts the body's natural cleansing process. This way you achieve a natural detoxification of waste and toxins from the body.
The Infrared Sauna Blanket uses infrared heat to effectively warm the body, which has a multitude of health benefits.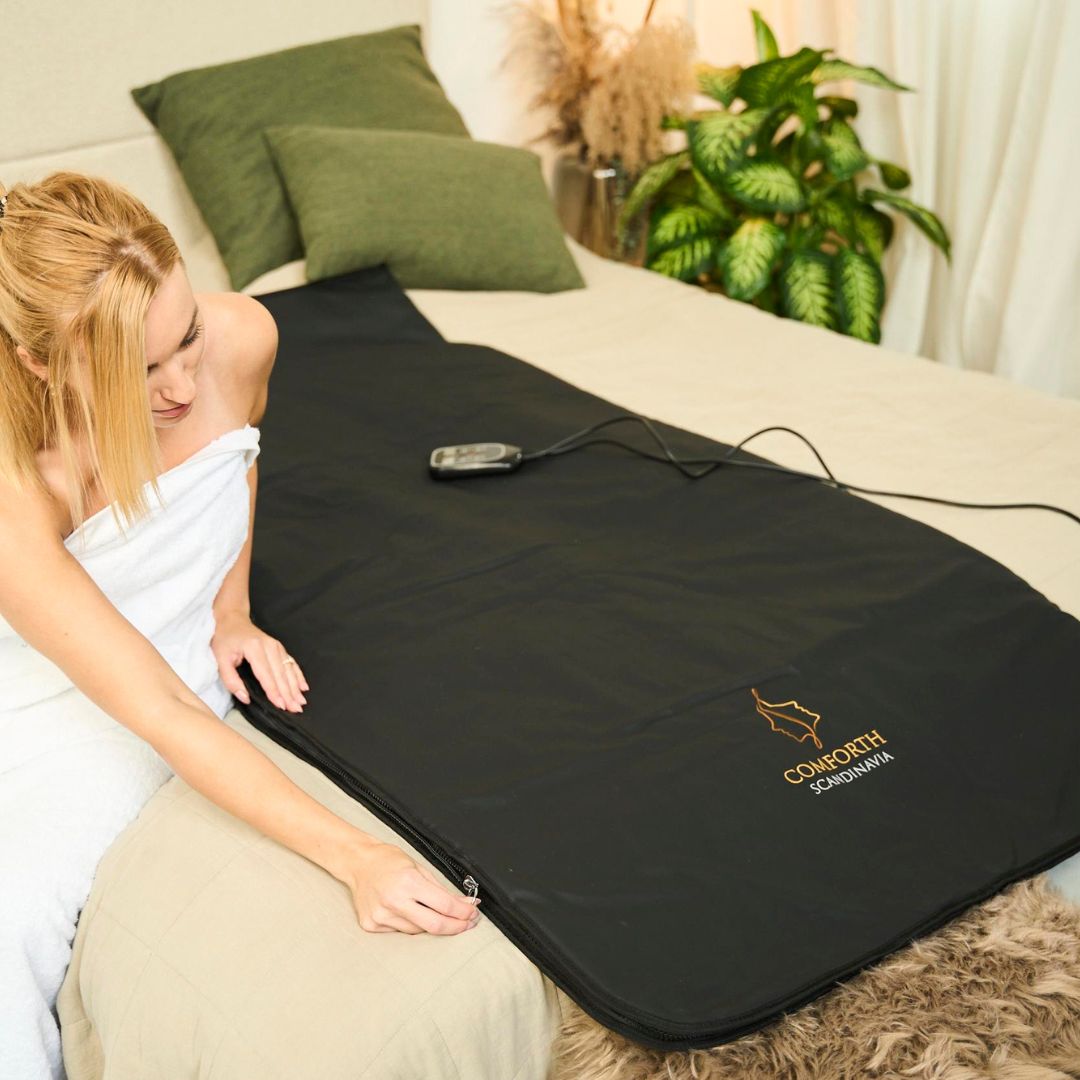 The science behind
How the Infrared Sauna Blanket works
The Infrared Sauna Blanket produces a special form of infrared light - FIR (Far Infrared Radiation) using special carbon fibers. The radiation is completely harmless and is also found in the sun's rays - in fact up to 80% of the heat energy we get from the sun comes in the form of FIR.
The infrared light effectively heats the body from the inside and out, which sets in motion a multitude of the body's natural processes, including the thermoregulatory process, which increases heart rate, metabolism and makes you sweat.
The intense sweat cleanses the body of toxins that accumulate over time. In particular, sodium, alcohol, nicotine, cholesterol and health-damaging heavy metals such as lead, zinc and nickel are effectively removed from the body during treatments of 45-60 minutes.
The treatment expands the blood vessels and increases circulation, which relaxes the body, loosens muscle tension and reduces pain in joints and symptoms of arthritis. In addition, the improved blood circulation leads to increased, efficient oxygen transport to the cells, which accelerates muscle recovery and increases collagen production.
During a treatment with the Infrared Sauna Blanket, dopamine and serotonin are released, so you feel happier and more comfortable. In addition, the level of the stress hormone cortisol is lowered, so you experience less stress and anxiety. This makes the treatment incredibly relaxing and provides you with better and deeper sleep.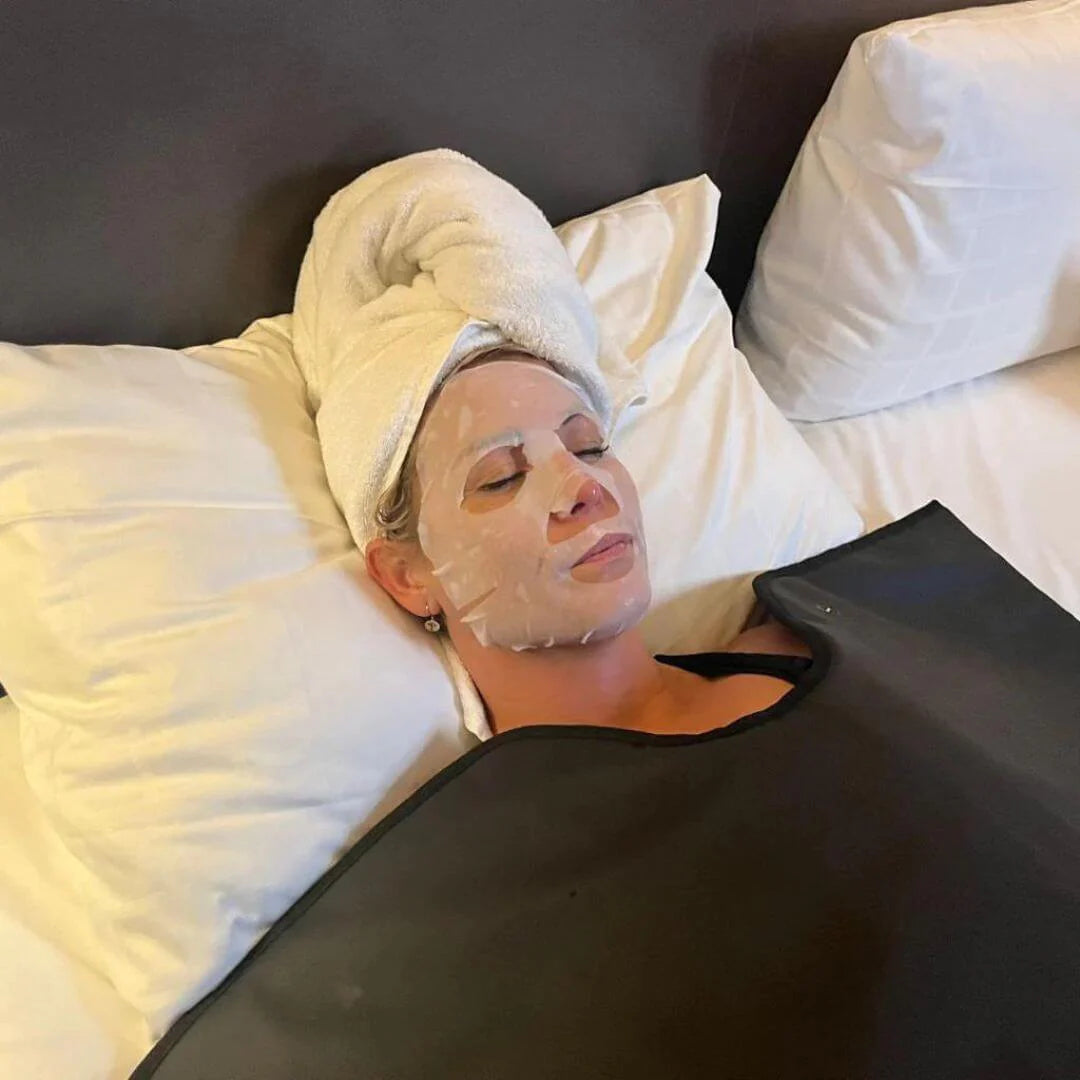 WHAT CAN THE INFRARED SAUNA BLANKET DO FOR YOU?
Treatments with the Infrared Sauna Blanket are not just a pleasant luxury. It also gives you a host of benefits for both your mental and physical well-being, including:
Relaxes body and mind
Improves mood
Relieves stress and anxiety
Supports deeper sleep
Improves blood circulation
Detoxes the body
Increases collagen production
Fights inflammation and reduces pain
Helps with weight loss
RENEW YOURSELF IN 30 MINUTES
How to use your new infrared sauna blanket
It's easy to use our infrared sauna blanket, and you can listen to music, read a book, work on the computer or watch television while enjoying the treatment. You do this as follows:
1. Unfold your blanket where you want to lie. It can be in bed, on the couch or maybe on the floor on a yoga mat.
2. Make sure to wear light clothing, incl. socks or put a towel inside the blanket.
3. Get comfortable. Feel free to place a pillow under the neck.
4. Switch on the blanket via the hand-held remote control and set the temperature.
5. Relax completely and enjoy the treatment.
6. Optional: End the treatment with a cold, refreshing bath.
In addition to the blanket's many physical benefits, the deep relaxation also makes room for mental peace. Regular use of the blanket thus has a positive effect on the quality of sleep and one's productivity in everyday life.
100% QUALITY AND 100% SATISFACTION GUARANTEE
With a Comforth Infrared Luxury Sauna Blanket you are guaranteed the best quality on the market. The sauna blanket consists of 7 advanced layers, which ensure that the blanket is 100% fireproof, waterproof and comfortable to lie in. The blanket also has a low power consumption, so you can enjoy the treatment without worrying about electricity bill.
That is why we are pleased to be able to offer no less than a 100-day full satisfaction guarantee, so that you can try the blanket at home in peace and quiet. If you do not experience the expected benefits, you can change your mind at any time within the first 100 days and get the full amount refunded against returning the product.
Frequently Asked Questions
The product
A sauna blanket is a blanket that simulates the effect of a traditional sauna. You can lie in it while watching TV, reading a book or just relaxing. It's an easy and convenient way to enjoy the benefits of a sauna without leaving your home.

An infrared sauna blanket is an upgrade of the traditional sauna blanket. It uses infrared heat, which penetrates deeper into the skin and provides a more intense and beneficial experience.
You can use the sauna blanket as often as you like! Most people use the blanket 1-3 times a week, but there is nothing to prevent you from using it more often.

The treatment relaxes body and mind and promotes deep sleep, which is why it is perfect to use before bed.

However, it is also really good to use it earlier in the day, as the treatment here will have an energizing effect, which gets you ready for a productive day.

We also have professional athletes as customers who use the blanket after a training session to take advantage of the infrared therapy and thus recover faster.
The recommended usage time is 30-60 minutes per session. The timer can be set up to 60 minutes but can be extended during treatment.

For the very first treatment, we recommend setting the timer to 20-30 minutes. Decide whether you feel comfortable with the temperature and treatment time and adjust the next treatment according to your own personal preferences.

Stop the treatment if you feel dizzy, dehydrated or too tired.

If you want to use the Sauna blanket as part of an otherwise healthy weight loss process, we recommend 30-45 minutes a day.

If you want to use the blanket with a focus on the more general benefits such as pain relief, boost of the immune system, improved blood circulation etc., we recommend 45-60 minutes 2-3 times a week.

If you want to use the blanket for longer than 30 minutes, we recommend drinking a large glass of water before use.

Although most people will get the most out of a 45-60 minute treatment, even a short session in the sauna blanket can provide many benefits. It's all about figuring out what best suits your lifestyle.
No. The face does not have to go under or in the blanket, but the face will still have a positive effect from the treatment. This is because the infrared light heats the body from the inside, so that the heat is evenly distributed throughout the body.
A sauna blanket works by generating FIR (Far Infrared Radiation), i.e. long-wave infrared radiation, which penetrates deep through the skin and heats the body from the inside and out, resulting in an intense deep-cleansing sweat.

The wavelength of the radiation in our sauna blanket is between 4,000 and 15,000 nm. In comparison, visible light is between 380 and 750 nm.

The infrared radiation is generated by carbon fibres, which lie deep inside the blanket. The energy generated consists of light and heat. The infrared rays cannot be seen, as they are infrared, but the heat from them can be felt on the skin. The best corresponding example is the sun's rays. The sun generates a lot of light that we can see. However, it is primarily the infrared light, which we cannot see, that warms the skin when we are outside.
Traditional saunas use hot coals or electric heating units to heat up the air as much as possible. Infrared saunas do not heat the air. Instead, it creates infrared radiation, which warms the body from the inside and outside. This allows you to experience a longer and more intense sweat treatment without being exposed to the very high temperatures of a normal sauna.

For this reason, many people prefer an infrared sauna, as it can be more affordable and comfortable.
An infrared sauna blanket uses exactly the same technology as an infrared sauna cabin.

The only difference is that with the blanket you can lie comfortably, take it with you, do other things in the meantime and relax more. In addition, an infrared sauna blanket is also much cheaper and more space efficient than an infrared sauna cabin.
EMF stands for Electromagnetic Field and is measured i.a. in milligauss (mG). Some people believe that exposure to excessive EMF levels can be harmful to humans over time.

The sauna blanket from Comforth is therefore designed with EMF blocking technology, and the EMF level of the blanket is only 1-3 mG.

In comparison, a computer has EMF of 4-20 mG, a microwave has 100-500 mG, a television 5-100 mG and a vacuum cleaner can have EMF up to 1,300 mG.

In other words, the Comforth Sauna Blanket is 100% safe for humans to use and has a weaker EMF than most household appliances you use in your everyday life.
The sauna blanket is very cost-effective. The blanket uses only 600W, which means it costs less than €0,50 per hour to use the device.

Therefore, you can save a lot of money compared to going to a physical sauna or having a sauna cabin installed in your own home. This means that the sauna blanket is not only good for your mental and physical health, but also for your wallet.
Our Sauna Blanket is made from 7 different layers, which make the blanket waterproof, fireproof, and protect against any form of overheating.

The inside and outside are made of high quality vegan leather. The exterior is designed with a nice finish with the Comforth logo embroidered in our classic golden colors.

The materials are 100% hypoallergenic and free of toxins, and the product is thoroughly tested for safety as well as CE and ROHS certified.

Some sauna blankets are very narrow, so it can feel tight to lie in them. Our Sauna blanket is spacious and made of material in which the skin can breathe.

In our Sauna blanket, real carbon fibers are used to generate infrared radiation. Some cheaper versions use copper wires or steel wire, which are less secure and unable to emit long-wave infrared light. These sauna blankets are therefore not infrared, and you should stay away from them.

Therefore, you must not confuse an infrared sauna blanket with a heating blanket - they are two completely different things.

When you purchase from Comforth, you will receive a detailed English manual, and you can always contact our customer service if you have any questions at support@comforth.com.

In addition, as always, we offer a 100-day 100% satisfaction guarantee.
Yes there is. However, it is important to point out that the infrared sauna blanket is not medical equipment but should be seen as a wellness treatment.

Therefore, we cannot promise that the device will help in relation to various diseases. We can only inform about what our customers have experienced.

Most studies on infrared therapy are American. We would like to avoid being responsible for medical studies that we have not carried out ourselves, which is why we do not link to studies on this page. However, it can be emphasized that there are many studies which have demonstrated a myriad of beneficial effects both when using normal sauna therapy and infrared sauna therapy.
Yes, but it cannot stand alone. You burn more calories during a treatment than you would in a resting state, as the heat stresses the metabolism.

However, you do not burn as many calories as you would otherwise have done if you had spent the same amount of time exercising.

Sauna treatments can therefore be an effective addition to an otherwise healthy and planned weight loss plan, especially if you have arthritis, a chronic illness or otherwise have a reduced ability to exercise normally.
The blanket is very easy to clean. The inside is 100% waterproof, which prevents the blanket from getting soaked through.

After use, you can easily wipe the blanket with a damp cloth in less than a minute.

You can advantageously zip up the blanket and unfold it completely before cleaning.
Using a sauna blanket is very simple. You just lie down in it, switch it on and select the desired temperature. You can use it while watching TV, reading a book, or just relaxing.

1) Connect the power supply to a socket.
2) Select the temperature and time setting (this can always be changed during treatment) on the control.
3) Wait 5 minutes for the blanket to heat up to the selected temperature.
4) Lie down in the blanket for the desired time.
5) Switch off the blanket again using the middle button on the control when you are finished.
We recommend light clothing incl. socks, as it can be uncomfortable to lie in the blanket only in underwear etc., as you sweat intensely during the treatment, and so that the skin does not have direct contact with the warm inside of the blanket. Therefore, wear clothes that you don't mind sweating in.

You can also put a thin cotton towel inside to collect sweat.
You get a Comforth Infrared Luxury Sauna Blanket, a carrying bag in high-quality fabric, a power supply with a controller and a manual.
The heat can be felt after just 2 minutes. However, it takes 5-10 minutes to fully heat up the blanket, depending on the temperature you set it to. Always make sure that the blanket is placed on a heat-resistant surface, e.g. your bed.
The temperature can be set to 80 degrees. However, it is important to point out that this is the temperature of the carbon fibers themselves, which generate the infrared light. There will be a slightly lower temperature in the blanket itself, as it is not hermetically sealed, and the carbon fibers are insulated by the 7 layers that the blanket consists of.

There is nothing right or wrong when it comes to temperature, and no studies have been done on which temperature works best against various health complications.

We recommend starting with 50-60 degrees and gradually increasing the temperature up to 70-80 degrees, as long as you find it comfortable.

Everyone is different and the most important thing is that you relax and feel good during the treatment.
There is absolutely no danger in falling asleep. The blanket switches off automatically when the selected time has passed.
The timer can be set to a maximum of 60 minutes. As long as your body is in normal fluid balance, 60 minutes is not enough to experience dehydration or overheating, so there is no need to worry. You can relax and safely fall asleep in the Sauna Blanket.
The inside and outside of the blanket are made of high-quality, hypoallergenic, waterproof artificial leather, also known as "vegan leather".

The blanket consists of 7 layers incl. fireproof cotton, waterproof synthetic leather, two types of insulation, and the carbon fibers themselves which create the infrared light.

All materials are ROHS certified and free of toxic materials.

The carbon fibers themselves lie in horizontal strips on the top and bottom of the blanket, so you get treatment over the whole body. There are no fibers running along the sides, which means that the blanket can be folded without the risk of damaging the heating fibers.
The blanket can be easily folded and fits in the carrying bag. Although it takes up space when unfolded, it can be stored very compactly.

Make sure the blanket is completely cooled down and dried off from sweat before you pack it up.
There is a big difference in how much us humans sweat. This depends on our genetics, weight, gender, age, lifestyle etc.

No matter how much you sweat, you can be absolutely sure of getting beneficial effects from the treatment. There is not a linear relationship between amount of sweat and treatment effectiveness.

If you would like to sweat more, you can extend the treatment time and/or increase the temperature.

If you feel that you are sweating too much during the treatment, you can advantageously zip up the blanket a little or have your arms outside the blanket. The most important thing is that the treatment is comfortable for you.
Much research has been done into the health effects of both infrared therapy (FIR), waon therapy (dry sauna therapy) and sauna therapy in general. Please see our subpage about the scientific documentation for the treatment here.
Consult a practitioner before use if you are affected by any of the conditions listed below:

Skin diseases or burns
Heat sensitivity
Heart disease
Broken bones
Just had surgery
High or very low blood pressure
Anhidrosis
Are pregnant or breastfeeding
Uses copper coil
Has a high fever
Have large open and/or inflamed wounds
Difficulty breathingWe do not recommend using the blanket when you are pregnant.

If you have problems with blood pressure or other heart diseases, you should consult your doctor before use.
Delivery
We offer delivery with UPS. You can always follow your package on UPS' tracking page. You will receive the tracking number by email as soon as your order has been dispatched.
We ship from our warehouse in Denmark.
If you buy before 2 pm. CET. on a weekday, your order will be dispatched the same day. Otherwise, we will ship the next business day. The actual delivery typically takes between 1-3 days but varies from country to country. Find your shipping time here.
Yes. As soon as your order is shipped, you will receive a tracking number so you can easily follow the delivery process. Should you not receive the package as expected, you will of course receive full compensation or a new shipment.
Yes. By virtue of our 100-day satisfaction guarantee, you have the option of returning your purchase within 100 days of receiving the item. Please note that you must pay the return shipping yourself. Read more about our satisfaction guarantee here.
UPS will deliver to your home address. If no one is home at delivery, UPS will deliver to the closest UPS pick-up point.
Other
You can easily contact us at support@comforth.com.
Read what our other customers think about the infrared sauna blanket
Are you considering treating yourself to an Comforth Infrared Sauna Blanket? Don't worry, you're definitely not alone. A lot of our satisfied customers have already experienced the many benefits that a sauna blanket from Comforth Scandinavia can bring. Why not take a moment to read about their experiences below? Maybe it will help you see how your life can also be filled with better sleep, more relaxation, and generally increased well-being. We are here for you and we would love to guide you on your journey towards a higher quality of life.