Comforth Nano-Mister
Sale price

€39,95
Regular price
(/)
Free 1-3 day delivery with UPS
Fresh look all day
Fresh skin and voluminous hair on the go with our fine Nano Mister. The unique technology distributes water particles so you can quickly moisturize and refresh your face on hot and dry days. Additionally, the compact design makes it suitable for carrying around with you wherever you go.
It is a always best to use setting spray after you apply your makeup if you want it to last longer. Now you can put setting spray in your Nano Mister to easily and effectively increase the durability of your look.

You can also use the Nano Mister together with liquid self-tanner to get a nice and evenly distributed result.

NOTE: If you put anything other than water in the Nano Mister, make sure that the consistency of the liquid is not too thick. For instance, if you want to add essential oils, this should be mixed up with water before use. Self-tanner depends on the thickness of the product but you can always dissolve the product with some water first.

Unscrew the water container and add water.
Screw the container back on.
Pull down the slider on the front of the product and enjoy the cooling steam!
1 Nano-Mister

1 Filling jar with pipette

1 Simple manual

1 Travel bag
Choose options
✔️ Hydrate your skin instantly
it is not uncommon for our skin to feel dehydrated on a hot summer day or after
consistent hours of work behind a computer. With a Comforth Nano Mister in your
bag, you can always give your skin new life, no matter where you are.
✔️ Elegant and compact design
Our Nano Mister is designed elegantly and is available in three different colors so you can express your personal style with the color you choose. The compact design makes it easy to carry in your bag or pocket. It is the perfect partner during road trips, at the office or even at home.
✔️ Suitable for all skintypes
Our Nano Mister is 100% safe to use anywhere on the body and is suitable for all skin types. The cooling mist has an anti-inflammatory effect and helps with redness or irritation, so that your skin is refreshed and glows from within.
✔️ Perfect for lashes
If you have eyelash extensions, our Nano Mister is a must when applying them. It helps the glue harden much faster, and significantly reduces the risks of allergic reactions.

The Nano Mister emits a nice, cooling steam and can be used anywhere and anytime.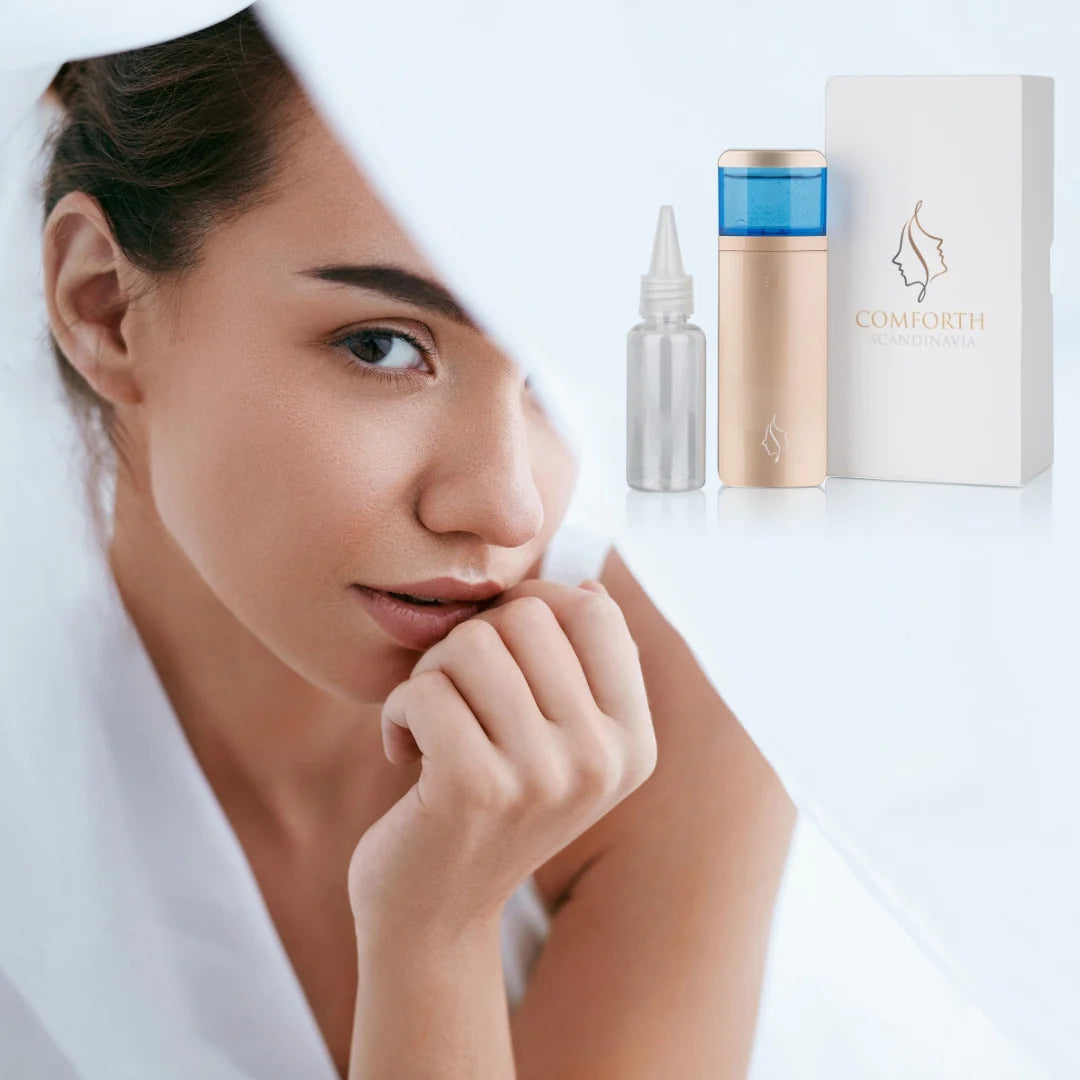 MOISTURE FOR SKIN AND HAIR
If there's one thing your body loves, it's hydration. This is especially true when it comes to the skin, which becomes visibly fresh and glowy when it is properly moisturised.
With our Nano Mister, you always have that moisture with you on the go. Therefore, you can mist up and refresh skin and hair whenever you need it. Especially on hot days, if you are sitting in the office or perhaps on the train or bus, it is incredibly nice to be able to cool yourself with the steam.
In addition to the soothing and cooling sensation, many people find that the moisture from a Nano Mister penetrates deep into the skin and deeply hydrates the skin. It keeps the skin tight and soft, as well as reducing irritation, redness and fine lines.
You can easily use your Nano Mister even if you are wearing make-up - the fine water vapor is completely makeup-friendly.
FOR YOU WITH EYELASH EXTENSIONS

Eyelash extensions have become incredibly popular because they give a feminine and defined look. If you are one of those who use eyelash extensions, then a Nano Mister is for you.
It can be used to moisten and thus harden the glue you use for the lashes much faster than would otherwise be the case. Some experience irritation and allergic reactions due to the strong lash glue, but this risk is significantly reduced as the glue hardens faster.
Whether you are applying eyelashes to yourself or others, it will be much more convenient and effective with a Nano Mister. It will also be more pleasant, as the water vapor can remove odors from the glue more quickly.

YOUR NEW BEST FRIEND
In other words, our Comforth Nano Mister is your new best friend on the go, traveling or at home. If you feel like your look needs a refresh or you're feeling a bit tired, a little cool mist on your face can do wonders.
It is easy to use and does not require much other than that you fill it with fresh water. Then you are well prepared for the hot summer days and any dry environments.
THE PRODUCT
Comforth Nano-Mister has a built-in ultrasonic vaporizer, which converts the water into fine nano-water particles. These water particles are even smaller than normal water particles and thus penetrate the skin more easily and add more moisture.
You can use the machine as often and for as long as you wish.

However, the product automatically stops the discharge after 60 seconds. If you want more after this, simply drag the slider up and down again.
You do not need to clean the machine after each use.

However, after prolonged use, limescale stains may appear on the inside of the water container if tap water is used. This can be advantageously removed with a little descaling agent on a small cloth. If you want to avoid this, you can use distilled water, but this is not a requirement.
It can hold 16ml of water.
A full charge takes approx. 2 hours. Charging takes place via USB plug.
On a full charge, it can last for 2-3 hours of use.
DELIVERY
We offer delivery with UPS. You can always follow your package on UPS' own tracking page. You will receive the tracking number by email as soon as your order has been dispatched.
We ship from our warehouse in Hals, North Jutland, Denmark.
If you buy before 2 pm. CET. on a weekday, your order will be dispatched the same day. Otherwise, we will ship the next business day. The actual delivery typically takes between 1-3 days but varies from country to country. Find your shipping time here.
Yes. As soon as your order is shipped, you will receive a tracking number so you can easily follow the delivery process. Should you not receive the package as expected, you will of course receive full compensation or a new shipment.
Yes. By virtue of our satisfaction guarantee, you have the option of returning your purchase within 100 days of receiving the item. Please note that you must pay the return shipping yourself. Read more about our 100-day satisfaction guarantee here.
UPS will deliver to your home address. If no one is home at delivery, UPS will deliver to the closest UPS pick-up point.
Yes, we do. We send all orders from Denmark.

Do you wish to order to Sweden, visit our swedish site.

Do you wish to order to Norway, visit our norwegian site.

Do you wish to order to Denmark, visit our danish site.
Other